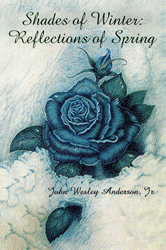 Tacoma, WA (PRWEB) September 15, 2014
When real love finds you at the wrong time, do you pursue it or let it pass you by? The question of right and wrong is difficult when matters of the heart are involved.
Author John Wesley Anderson, Jr. explores the lives of five people trying to pursue love and happiness, in his new book "Shades of Winter." Conflict begins when each character is faced with complex decisions that often include maintaining their marriage vows.
"This is a morally puzzling romance that tugs on the heart of readers in ways they have hopefully never felt before," Anderson said.
Love can happen when we least expect it, but loving one's self before truly loving another is important. Anderson's characters struggle with accepting their imperfections, which impacts their lives and the relationships around them.
"As an observant student of life, I felt the need to explore the grey areas of our existence that real love creates," Anderson said.
For more information, visit http://www.johnwesleya.com.
"Shades of Winter: Reflections of Spring"

By John Wesley Anderson, Jr.

ISBN: 978-1-4836-0691-0

Available in softcover and e-book

Available on Amazon, Barnes & Noble and Xlibris
About the author

John Wesley Anderson, Jr. was born in Detroit. For the past 15 years, Anderson has been a funeral director and embalmer in the Tacoma, Washington area. He attended Kansas City Kansas School of Mortuary Science and Counseling. Anderson is the proud father of two sons and currently resides in Spanaway, Washington.